PDP-8 DF32 Disk Drive Front view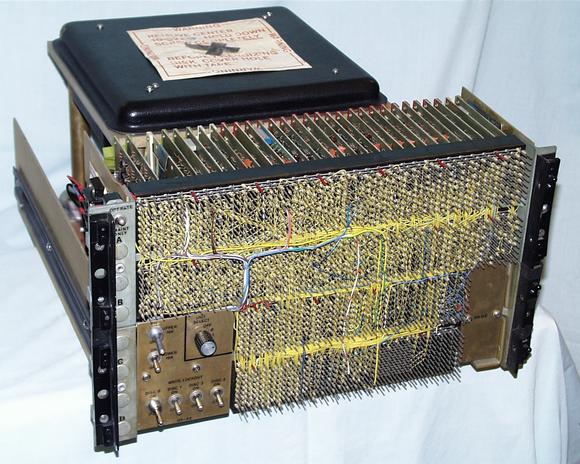 This is the front of the DF32 disk drive. The operator controls are on the left side. The connection between circuit cards ( 58K) are made with the yellow wirewrap wire you see on the front. The switches are wired in with the other colored wire and the blue wires are engineering change orders (ECO) made to the unit to improve operation. The two switches which don't match are replacements since somebody had removed them from the unit. I have since gotten better matching switches. The disk platter ( 49K) is under the black cover.
One of the ECO's was to replace an optical sensor for the start of the data on the disk with an extra card (one shot) which detected the gap in the data between the end and start of the track. I assume this was done because the bulb in the optical sensor had a limited life but I don't really know.
Previous picture (wrapping to last) Next picture
Back to Previous page All of PDP-8 DF32 Disk Drive pictures
---

Feel free to contact me, David Gesswein djg@pdp8online.com with any questions, comments on the web site, or if you have related equipment, documentation, software etc. you are willing to part with. I am interested in anything PDP-8 related, computers, peripherals used with them, DEC or third party, or documentation.

PDP-8 Home Page &nbspPDP-8 Site Map &nbspPDP-8 Site Search

Mirror site if this site is slow highgate.comm.sfu.ca