Pulling head servo: Q2040 setup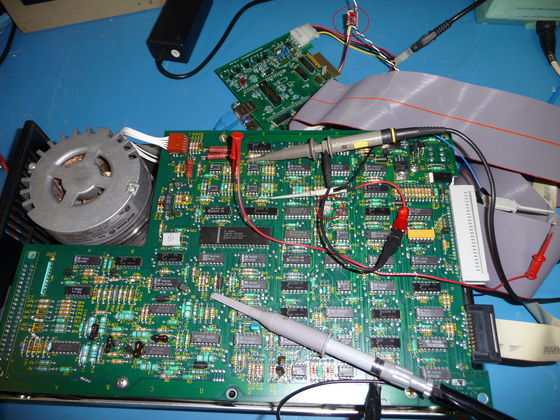 This is my setup for controlling head offset on a Q2040 drive. The red clip lead is providing the offset voltage to the R108. Attach it to the same end of the resistor I did. The other end of the clip lead is attached to a 50k resistor which is attached to the output of the DAC. I hadn't made the buffer board at this point. I was driving the DAC chip with a higher voltage instead. This drive has a processor controlled servo offset it applies that will cancel the external offset unless the circled jumper E3 is installed to disable it. I found the drive can stop responding properly. Removing E3 to let the drive recalibrate and then reinstalling it will get it working again. The clip lead to C63 is picking up ground. The scope probes were for monitoring.
Previous picture (wrapping to last) Next picture
Back to Previous page All of Pulling head servo: pictures
---
Feel free to contact me, David Gesswein
djg@pdp8online.com
with any questions, comments on the web site, or if you have related equipment, documentation, software etc. you are willing to part with. I am interested in anything PDP-8 related, computers, peripherals used with them, DEC or third party, or documentation.
PDP-8 Home Page
&nbsp
PDP-8 Site Map
&nbsp
PDP-8 Site Search