Pulling head servo: RD54 connections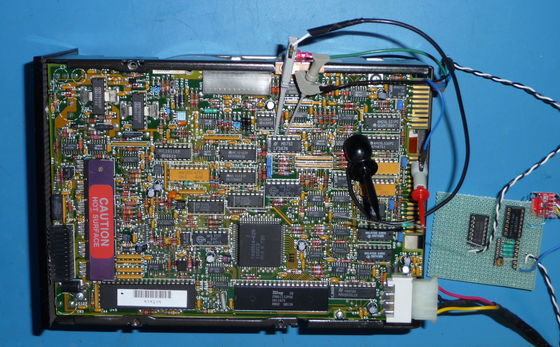 This is where to connect the wires on a RD54/Maxtor XT2190. The XT-1140 schematic from Bitsavers is a close match to this drive. U14 pin 13 is the injection point and I used a 10k series resistor. U14 pin 11 is ground. The schematic calls out a LM324 but the part is a LF347. I used limits of 3.5V and 6V around the nominal value of 5V. The MFM reader is not connected in this picture.
Back to Previous page All of Pulling head servo: pictures
---
Feel free to contact me, David Gesswein
djg@pdp8online.com
with any questions, comments on the web site, or if you have related equipment, documentation, software etc. you are willing to part with. I am interested in anything PDP-8 related, computers, peripherals used with them, DEC or third party, or documentation.
PDP-8 Home Page
&nbsp
PDP-8 Site Map
&nbsp
PDP-8 Site Search