W Series PDP-8 Board information and W103 PDP-8 Device Selector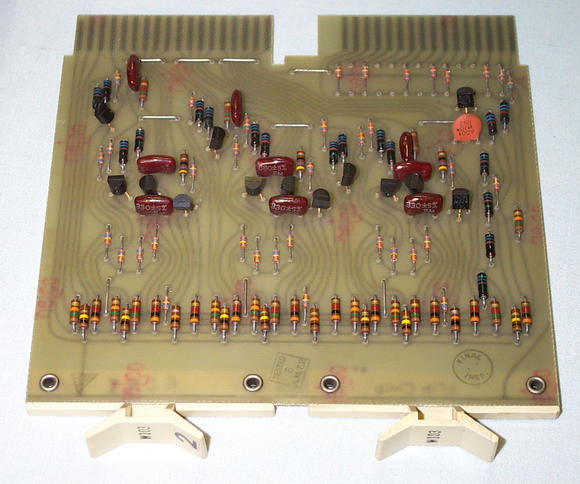 This board is used to decode the six device selector bits transmitted on the PDP-8, PDP-8/S or PDP-8/I negative I/O bus to select which addresses a peripheral responds to. The device code is selected by cutting diodes off the board. The selection diodes are the ones in the upper right next to the edge connector. The two on the handle is a stick on label used to mark what the low 3 bits of the address this board was set to, the upper 3 bits are normally the same for all boards in a peripheral. The full address this board is set to is 62 octal.
This board cost $52 in 1968.
Back to Previous page All of W Series PDP-8 Board information and pictures
---

Feel free to contact me, David Gesswein djg@pdp8online.com with any questions, comments on the web site, or if you have related equipment, documentation, software etc. you are willing to part with. I am interested in anything PDP-8 related, computers, peripherals used with them, DEC or third party, or documentation.

PDP-8 Home Page &nbspPDP-8 Site Map &nbspPDP-8 Site Search

Mirror site if this site is slow highgate.comm.sfu.ca