PDP-8 Web Interface Login Help
This dialog allows login to a private file area for storing files used on the PDP-8. It is accessed from the file menu login entry on the main window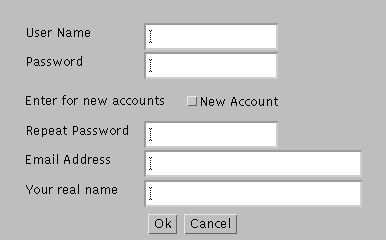 User Name field is user name to login as. Should be one word.
Password field is password for user name. The password will be displayed with * to prevent others from reading the password.
New Account check box when checked creates an new account and logs into it.
The following only should be filled in when creating a new account.
Repeat Password field. Enter password again in this field. This verifies that the password was entered correctly.
Email Address field is for your email address. I will not provide your email address to others. I may use it to contact you if I see problems or to ask you about what you thought of my site. I may delete account if invalid information is given.
Your Real Name For my records.
Ok button performs the login.
Cancel button closes the dialog without taking any action.
---
Feel free to contact me, David Gesswein
djg@pdp8online.com
with any questions, comments on the web site, or if you have related equipment, documentation, software etc. you are willing to part with. I am interested in anything PDP-8 related, computers, peripherals used with them, DEC or third party, or documentation.
PDP-8 Home Page
&nbsp
PDP-8 Site Map
&nbsp
PDP-8 Site Search