Vintage Computer Festival East 8 (2012) Cat ASCII Art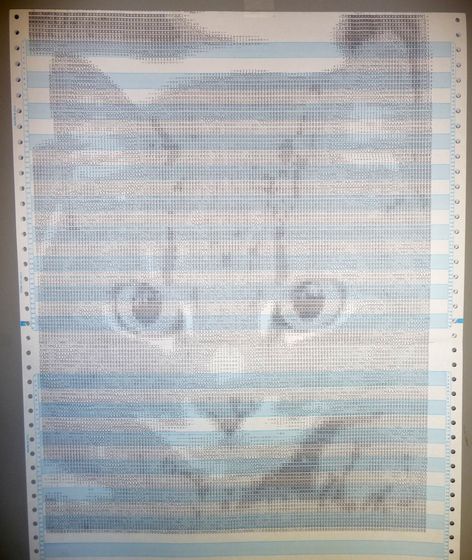 ASCII art cat printed on the LetterPrinter 100 attached to the DECmate III. This one used both different letters and overprinting to get the shades of grey. I put in a new ribbon but it still printed somewhat light. It appears the box of ribbons have dried out. The ASCII art I used was from here.
Previous picture Next picture (wrapping to first)
Back to Previous page All of Vintage Computer Festival East 8 (2012) pictures
---
Feel free to contact me, David Gesswein
djg@pdp8online.com
with any questions, comments on the web site, or if you have related equipment, documentation, software etc. you are willing to part with. I am interested in anything PDP-8 related, computers, peripherals used with them, DEC or third party, or documentation.
PDP-8 Home Page
&nbsp
PDP-8 Site Map
&nbsp
PDP-8 Site Search