PDP-8 TU56 DECtape Drive Drive Motors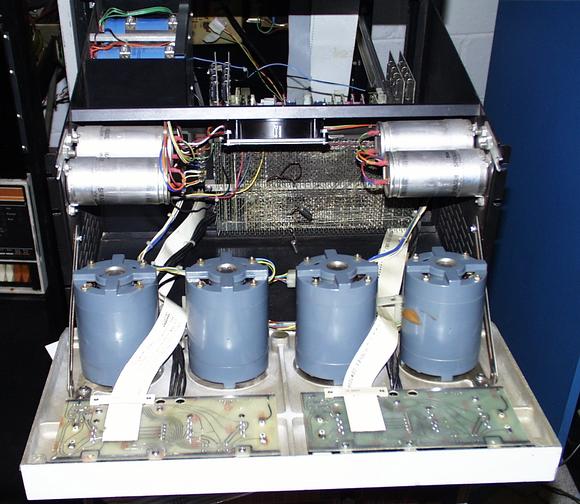 Drive Motors of TU56 DECtape drive. The four gray cylinders are the 600 RPM AC induction drive motors for the tape reels. The tape reels are directly attached to the motor shafts. The silver cylinders above the motors are the capacitors for the motors. In the back is the wirewrap backplane for the control cards ( 45K) . The motors are cooled by the fan (3.3K) above the backplane.
You can see one of the silver can motor capacitors has started to leak in this 2000 picture of my drive. I planned to replace them but forgot. In 2005 I noticed again that they were much worse ( 54K) and replaced them.
Back to Previous page All of PDP-8 TU56 DECtape Drive pictures
---
Feel free to contact me, David Gesswein
djg@pdp8online.com
with any questions, comments on the web site, or if you have related equipment, documentation, software etc. you are willing to part with. I am interested in anything PDP-8 related, computers, peripherals used with them, DEC or third party, or documentation.
PDP-8 Home Page
&nbsp
PDP-8 Site Map
&nbsp
PDP-8 Site Search