PDP-8 TU56 DECtape Drive Circuit cards back side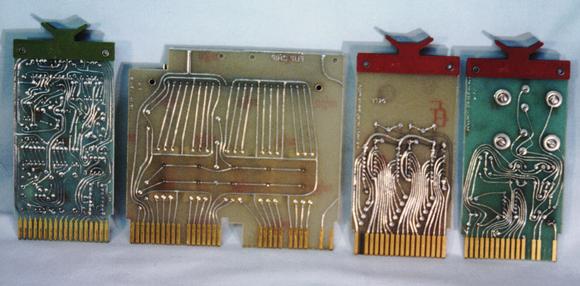 These are pictures of the back of some of the TU56 cards.
The card on the left is a G888A Manchester encoder/decoder to process the encoded data to/from the heads.
The second from left card is a G851B relay board. This card connects the heads of the selected drive to the common read and write signal lines.
The second from right card is a M117E 6-4 input NAND gates for general logic. The gates are connected through the wirewrap backplane to create the desired logic.
The card on the right is a M040B solenoid driver. This card was used to drive high current loads such as the head select relays.
The last letter after a card number is the revision. It is incremented after a change to fix a problem or otherwise improve the card.
These are only some of the cards in the TU56 DECtape drive.
Back to Previous page All of PDP-8 TU56 DECtape Drive pictures
---
Feel free to contact me, David Gesswein
djg@pdp8online.com
with any questions, comments on the web site, or if you have related equipment, documentation, software etc. you are willing to part with. I am interested in anything PDP-8 related, computers, peripherals used with them, DEC or third party, or documentation.
PDP-8 Home Page
&nbsp
PDP-8 Site Map
&nbsp
PDP-8 Site Search