ASR 33 Teletype Top of Typing Unit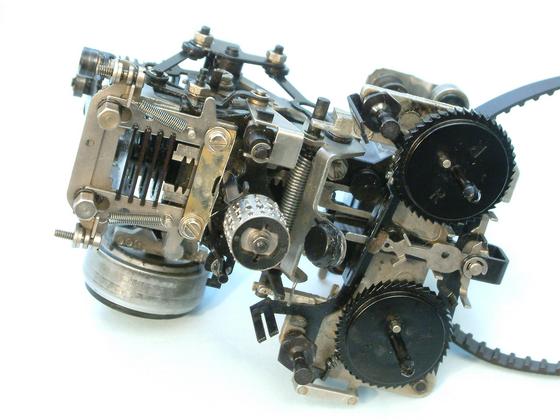 This is a closeup of the top side of the typing unit. The rubber hammer behind the print head was replaced since the original had turned to goo. I wasn't able to get an original replacement so it is replaced by a stick on rubber foot with RTV silicon to ensure it doesn't come off.
Another solution that was recommened to me is to slip a 3/4 inch length of 7/16 inch vinyl tubing over the print hammer bracket, from the end to the base of the "T". It helps to heat the tubing slightly first.
Back to Previous page All of ASR 33 Teletype pictures
---
Feel free to contact me, David Gesswein
djg@pdp8online.com
with any questions, comments on the web site, or if you have related equipment, documentation, software etc. you are willing to part with. I am interested in anything PDP-8 related, computers, peripherals used with them, DEC or third party, or documentation.
PDP-8 Home Page
&nbsp
PDP-8 Site Map
&nbsp
PDP-8 Site Search