Straight 8 at Montgomery County Agricultural Fair
I'm one of the Superintendents for the Montgomery County Fair Old Timers Show. The exhibit is 50 stuff 50 or more years old. Primarily its Agricultural and home related but not exclusive. Since the computer was old enough I brought it up for a day to see how much interest.
This was the VCF East 2022 display except ported to run on the straight 8. Follow that link for more information. I had graphical games tank and spacewar, the FFT signal processing demo, and punch block letter text on paper tape. The signal processing was only of interest to a few people. A number played the games a some seemed to be really enjoying them. The punching text was popular with the younger kids.
I also brought some other non computer stuff to display. A couple I have pictures of.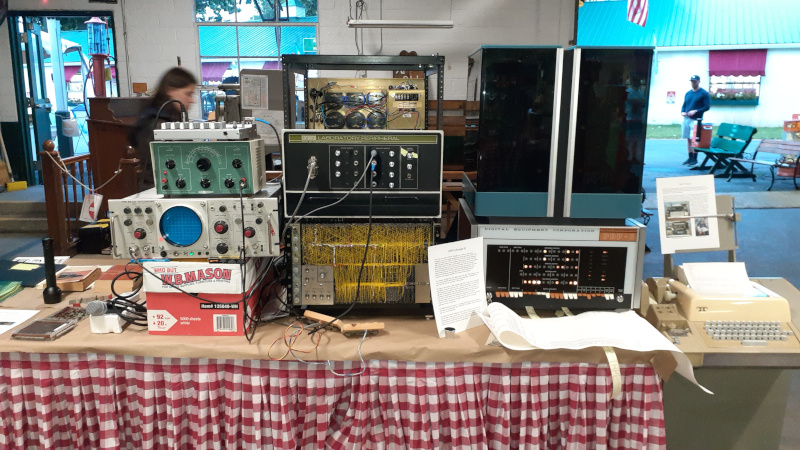 The following picture links also have descriptions of what is shown in the pictures.



My exhibit (100K) Attendee playing tank game (102K)
Text punch (100K) Chads ( 69K)
Hercules Gas Engine (112K) Telegraph Key and Sounder ( 58K)

---

Feel free to contact me, David Gesswein djg@pdp8online.com with any questions, comments on the web site, or if you have related equipment, documentation, software etc. you are willing to part with. I am interested in anything PDP-8 related, computers, peripherals used with them, DEC or third party, or documentation.

PDP-8 Home Page &nbspPDP-8 Site Map &nbspPDP-8 Site Search