Vintage Computer Festival East 2014 Second replacement attempt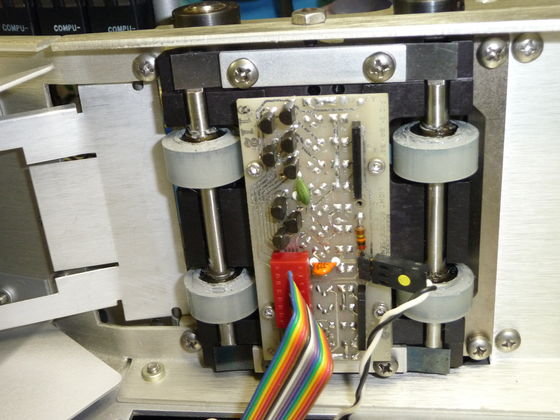 I re-cut the tubing to get cleaner edges and to make them a little less wide than the metal rollers they go on. I'm not positive the technique I used since I'm writing this 5 years later. I think I slowly spun them and used a knife or saw to cut them. Watch out for the tool being grabbed. I also put a little gray RTV on the sides to try to hold them in place. Don't know if it was needed. They still were working fine when I took the reader back to VCF in 2019.
Previous picture Next picture (wrapping to first)
Back to Previous page All of Vintage Computer Festival East 2014 pictures
---
Feel free to contact me, David Gesswein
djg@pdp8online.com
with any questions, comments on the web site, or if you have related equipment, documentation, software etc. you are willing to part with. I am interested in anything PDP-8 related, computers, peripherals used with them, DEC or third party, or documentation.
PDP-8 Home Page
&nbsp
PDP-8 Site Map
&nbsp
PDP-8 Site Search