Vintage Computer Festival East 10 (2015) Talk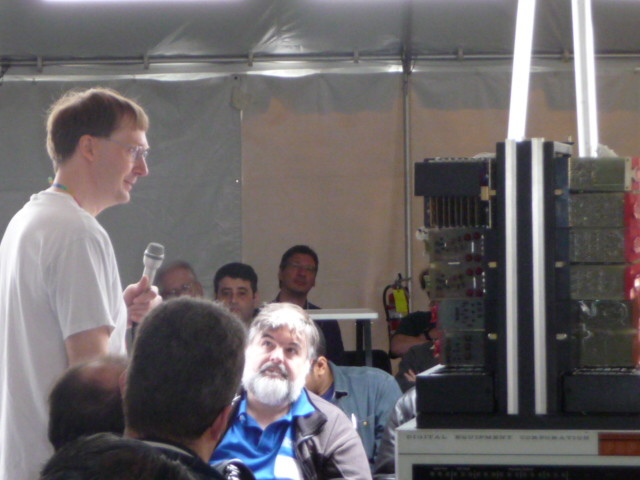 Here I am giving a short talk on the restoration of the computer. See youtube video of the talk. After the talk I powered on the computer. I had planned to have it print on the teletype but didn't get the teletype hooked up before it was time for the talk. I could tell from the lights that the program wasn't running properly so it wouldn't have worked anyway. After bringing it back to the exhibit hall the problem was found to be a bad card edge finger connection causing one of the bits to be misread from memory. After correcting that the machine worked OK.
Back to Previous page All of Vintage Computer Festival East 10 (2015) pictures
---
Feel free to contact me, David Gesswein
djg@pdp8online.com
with any questions, comments on the web site, or if you have related equipment, documentation, software etc. you are willing to part with. I am interested in anything PDP-8 related, computers, peripherals used with them, DEC or third party, or documentation.
PDP-8 Home Page
&nbsp
PDP-8 Site Map
&nbsp
PDP-8 Site Search