Vintage Computer Festival East 10 (2015) Exhibit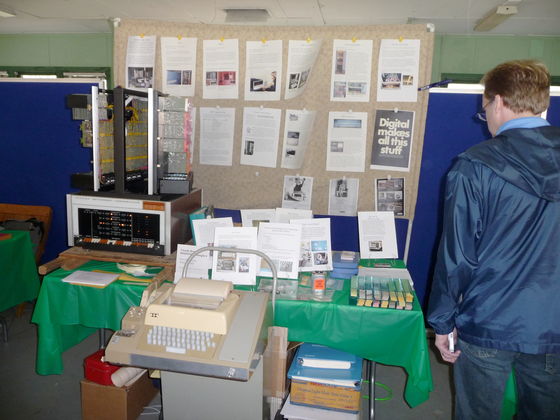 This is my exhibit of the MARCH/RESISTORS straight 8. The teletype with it is mine. The back wall and table has information and ephemera for the display. The tabletop PDP-8 normally had blue and smoked Plexiglas covers over the cards that are not installed. You can see one on my machine in when I showed it in 2012. One of the covers was broken so a reproduction needs to be made.
Back to Previous page All of Vintage Computer Festival East 10 (2015) pictures
---
Feel free to contact me, David Gesswein
djg@pdp8online.com
with any questions, comments on the web site, or if you have related equipment, documentation, software etc. you are willing to part with. I am interested in anything PDP-8 related, computers, peripherals used with them, DEC or third party, or documentation.
PDP-8 Home Page
&nbsp
PDP-8 Site Map
&nbsp
PDP-8 Site Search