Vintage Computer Festival East 11 (2016) Adding machine, slide rules, manuals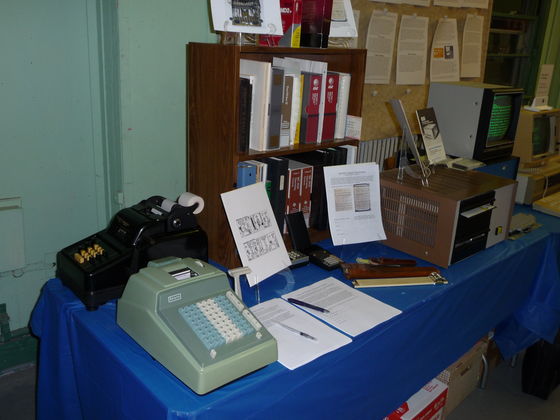 On left is my parents' (blue green Sears) and wife's parents' (Underwood Sundstrand) adding machines. In back is a bookcase with various manuals, books, and users group newsletters for the equipment on display. In front is my parents' first calculator and my wife's programmable calculator. In front of them is my grandfather's slide rule and the small yellow one behind it is my uncle's, the same model used on Apollo 13. Stuff to the right will be discussed in later pictures. The paper was some simple instructions on usage of the adding machines and slide rules with sample problems.
The slide rules were mostly used by people who had used them previously. Some people who hadn't used one did do a simple multiply or had me demo it. I didn't have time to practice anything other than simple multiply. They can do a lot more.
The adding machines got more use since they were easy to get them to do something. Some people did try the multi-step process to multiply. Some of the younger kids were happy pulling the lever and weren't too interested in what exactly it was doing.
Not too many people wanted to read the manuals.
See the display information on the adding machines and slide rules.
and operating instructions (PDF) Sears, Sundstrand, and Slide Rule Multiply
and our sliderule history
Back to Previous page All of Vintage Computer Festival East 11 (2016) pictures
---
Feel free to contact me, David Gesswein
djg@pdp8online.com
with any questions, comments on the web site, or if you have related equipment, documentation, software etc. you are willing to part with. I am interested in anything PDP-8 related, computers, peripherals used with them, DEC or third party, or documentation.
PDP-8 Home Page
&nbsp
PDP-8 Site Map
&nbsp
PDP-8 Site Search