Vintage Computer Festival East 2023 Printer ribbon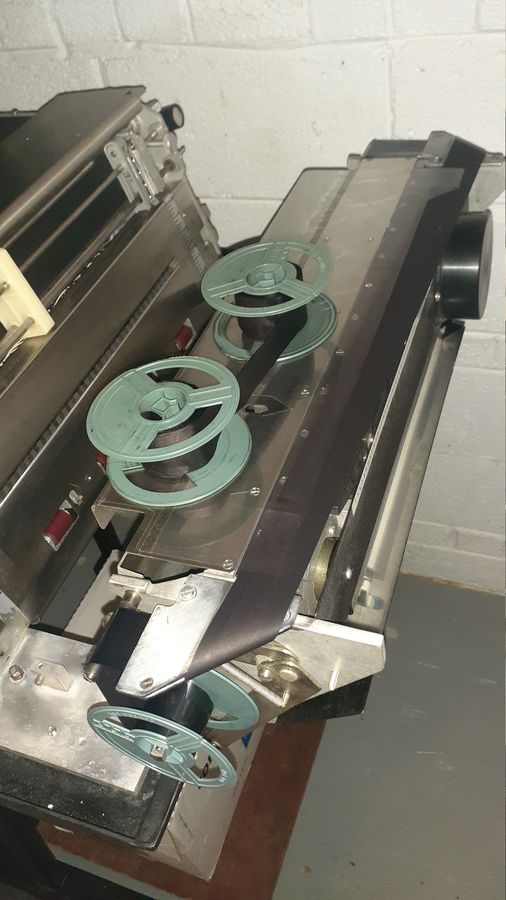 When I got the printer it came with a box of multistrike film ribbons. They were bought from BITS "n" BYTES in Rockville, MD for $8.00 each in 1983. Original ribbons were 1 5/16" by 150'. For a 40 year old ribbon they print pretty well but don't print as dark as I remember new ribbons printed. (Printing gets lighter as ribbons are used. Sometimes you would get pretty light printouts when they were slow to change the ribbon.) Printers I used back in the day had cloth ink ribbons. The printer manual only discussed the film ribbons which I couldn't find any near the width needed. Wide ribbons all seem to be thermal. I did find Ribbons unlimited sold 1 1/4"ribbons which seemed close enough. Talking with them I got 25 yards of ribbon for a much better price than 12.5 times the web page price.
The ribbon did give me darker print and characters were a little better formed. If you look in the picture the printer has a clear plastic shield that covers part of the ribbon. With the film ribbon it takes a reasonable amount of pressure to transfer "ink" to the paper. With a real ink ribbon light rubbing against it transferred ink so the printout had black smears. If I made a new plastic shield with just a small rectangle open around the print chain I think the ink ribbon will work. The ribbon is fine it's just the printer wasn't designed for ink ribbon. I waited too late in looking for ribbon so it was too close to event to start modifying the printer. I used the film ribbon. Will play more later. If you look at the next ASCII art picture you can see that it doesn't look that dark.
In the picture you can see the ink ribbon sitting on top and the film ribbon going across the printer. The print chain is below the film ribbon. Behind the ink ribbon you can see the print hammers in the metal plate. Below the film ribbon you can see the fluorescent bulb they put in the printer so you could see the printing better.
Back to Previous page All of Vintage Computer Festival East 2023 pictures
---
Feel free to contact me, David Gesswein
djg@pdp8online.com
with any questions, comments on the web site, or if you have related equipment, documentation, software etc. you are willing to part with. I am interested in anything PDP-8 related, computers, peripherals used with them, DEC or third party, or documentation.
PDP-8 Home Page
&nbsp
PDP-8 Site Map
&nbsp
PDP-8 Site Search