VR14 Monitor Picture Top Inside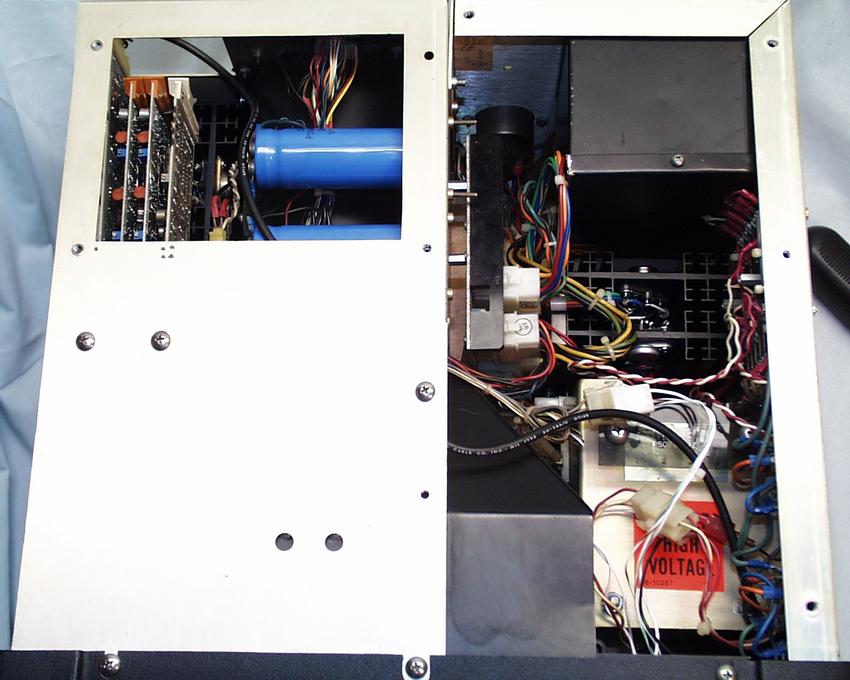 Looking straight down, covers removed. The big black block in the back right is the power transformer. The heat sink below it has the power transistors for the deflection power supply. Below it is the high voltage transformer for the CRT. The CRT is under the back shield. The board above the CRT is the G8360 ( 86K) regulator board.
In the other hole is the A225 ( 82K) deflection cards, the W684 ( 58K) Intensity card, and the G840C ( 61K) light pen card plugged into a small backplane ( 87K) . Below the cards is the heat sink for the deflection power transistors. The blue cylinders are filter capacitors for the ± 22V deflection power.
Back to Previous page All of VR14 Monitor pictures
---

Feel free to contact me, David Gesswein djg@pdp8online.com with any questions, comments on the web site, or if you have related equipment, documentation, software etc. you are willing to part with. I am interested in anything PDP-8 related, computers, peripherals used with them, DEC or third party, or documentation.

PDP-8 Home Page &nbspPDP-8 Site Map &nbspPDP-8 Site Search

Mirror site if this site is slow highgate.comm.sfu.ca