PDP-8 DF32 Disk Drive Disk platter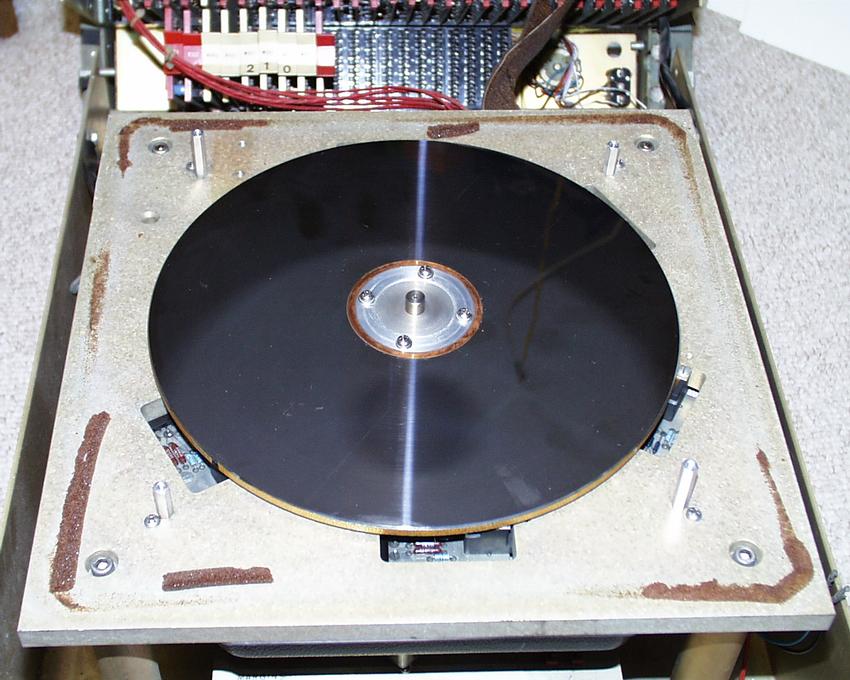 This is the disk platter of the DF32. This picture was taken before I started restoring the unit. You can see some fingerprints and dust on the disk. The nickel cobalt alloy plating is a shiny silver which is reflecting other objects in the room. Later disks such as the RK05 switched to iron oxide for lower cost. Newer PC disks switched back to the nickel cobalt and probably have switched to something else now. At the edge of the disk you can see the adhesive where a strip was attached for the optical start of track sensor. The slightly darker area with the two holes above and to the left of the disk was where the sensor was installed. Most of the DF32 disks had an ECO to remove the optical sensor and replace it with electronics. Around the edge of the disk platform is the remnants of the deteriorated foam used to seal the cover. You can also see it on a ribbon cable above the platform. I replaced the platter foam with new weather stripping foam but I could only find a match for the stiffness in white. I just removed the crumbling foam from the cable.
Where the platter was in contact with the disk heads the coating was missing. I suspect it was corrosion but it may have had some other cause. The heads looked OK and I may be able to use the other side of the disk if I rewrite the timing track. I am in the process of doing that but I will need to build a timing track writer. The data is recorded on the lower side of the platter where it is against the heads.
Back to Previous page All of PDP-8 DF32 Disk Drive pictures
---
Feel free to contact me, David Gesswein
djg@pdp8online.com
with any questions, comments on the web site, or if you have related equipment, documentation, software etc. you are willing to part with. I am interested in anything PDP-8 related, computers, peripherals used with them, DEC or third party, or documentation.
PDP-8 Home Page
&nbsp
PDP-8 Site Map
&nbsp
PDP-8 Site Search