PDP-8/I Picture H704 Power Supply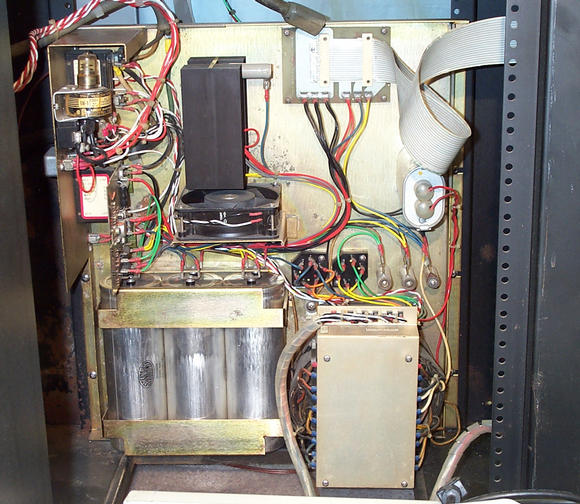 This is the PDP-8/I power supply. All the voltages are either linear regulators or semi-regulated (10-15%). It provides +5V 10A, +15V 5A, -15V 5A, -30V 6A. In the upper left is a mercury relay for the input AC power with the breaker behind it. Below it is the main regulator board attached to a breaker for the 5 volt power supply. To the right is the heat sink with the main power transistors for the 5V linear regulator with a power resistor at the top. A fan blows directly on it for cooling. Below it are the big silver filter capacitors for the supply. These early supplies used simple electronics and large transformers and capacitors to generate stable power.
To the right behind the metal shield is the main power transformer. It converts the input AC to lower voltage AC with some regulation due to its ferro-resonant design. The AC capacitor for the transformer is the two red leaded silver unit above it. Above the transformer are small black items which are the bridge rectifiers to convert the AC output of the transformer to DC. Also above the transformer are bleed/load resistors. At the top is the flat flex cable which feeds some of the voltages to the PDP-8. At the top of the transformer are a row of terminals which feed the remaining DC voltages and AC power to the fans. They are color coded to reduce the chances of getting them backwards. This power supply is very large and heavy for the 380 watts of power it supplies. A modern switching supply would be smaller and lighter than just the transformer in this one.
Back to Previous page All of PDP-8/I Picture pictures
---
Feel free to contact me, David Gesswein
djg@pdp8online.com
with any questions, comments on the web site, or if you have related equipment, documentation, software etc. you are willing to part with. I am interested in anything PDP-8 related, computers, peripherals used with them, DEC or third party, or documentation.
PDP-8 Home Page
&nbsp
PDP-8 Site Map
&nbsp
PDP-8 Site Search