My Computing History at VCF East 11 (2016)
The Vintage Computer Federation hosted the Vintage Computer Festival East 2016.
This year I decided to do something different and present my and some of my family's personal computing history instead of my normal PDP-8 display. The history progression was my grandfather's and father's slide rules, then parents' adding machines, the OSI computer used in high school, our first PC, and my wife's first computer, an AT&T 3B1. Also had a collection of manuals and documentation showing how you figured out how to operate the equipment and software. Also had one of my grandfather's math books with the tables of values of log, trig, and other math functions showing another way math was done, look it up in a book.
My normal PDP-8 display isn't really part of my computing history. I picked one up in college but it was just an interesting play toy. Some of the PDP-8's I have were used by my Uncle at Kent School.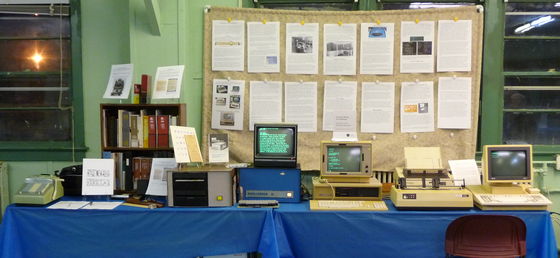 The following picture links also have descriptions of what is shown in the pictures.


My Exhibit (953K)
Adding machine, slide rules, manuals (1.6M) Public examining adding machines etc (843K)
OSI and TIPC (1.5M) Running Mugger on OSI (1.5M)
AT&T 3B1 (1.7M) My wife at AT&T 3B1 (847K)
See history information that was displayed behind the exhibit
Other sites with pictures of the event.
Mike Loewen
Herb Johnson
Dan Roganti
Bill Degnan
Jameel Akari

---
Feel free to contact me, David Gesswein
djg@pdp8online.com
with any questions, comments on the web site, or if you have related equipment, documentation, software etc. you are willing to part with. I am interested in anything PDP-8 related, computers, peripherals used with them, DEC or third party, or documentation.
PDP-8 Home Page
&nbsp
PDP-8 Site Map
&nbsp
PDP-8 Site Search