PDP-8 (Straight 8) Computer Front Panel Restoration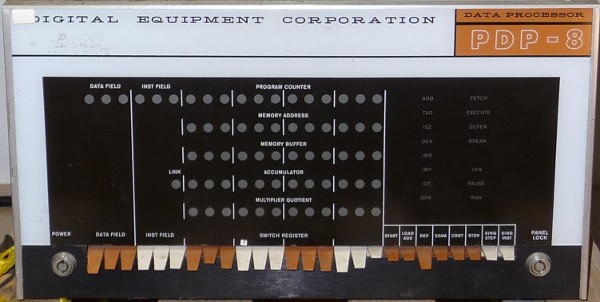 The only obvious issue from the initial inspection of the front panel was some of the switch handles were loose. To check it out further, I unscrewed the panel from the computer and laid it down. I used a meter to check the bulb resistance and marked with little pieces of white tape the bad bulbs. A total of 46 bulbs needed to be replaced including ones that failed due to moving the front panel or didn't light properly though seemed ok with an ohm meter. When I removed the circuit card to replace them I found the problem was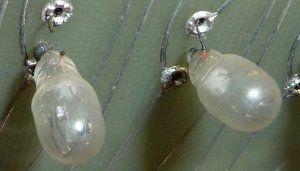 corrosion of the bulbs' thin wire leads.
Some of the bulbs had both wires broken. Others were so weak that touching them would break the wires.
The original 1762F/CM1762 bulbs aren't available in the quantity needed. I purchased the recommended CM2187 substitute. You can see in the pictures below that they matched the surviving bulbs well.
I removed the switch assembly from the front panel so I could fix the handles and check the switches. Since the switches can have higher resistance than the margin switches and still work ok in the front panel I tried just using contact cleaner on the switches. They work pretty well but don't register properly often enough that I will take them apart like I did with the margin switches. I found that the tabs were broken off some of the switches. I drilled the switch handles to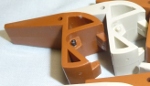 allow a metal pin to be inserted. After installing the handles a few would move back slightly after you flipped them. That motion was enough to turn the switch back off. The handle was too tight on the switch at the limit of its travel. I had to file a slight bit of the inside edge of the finger of the handle that was rubbing on the opposite side of the switch. Filing the edge didn't effect its maximum travel since the tips of the finger set the limit of motion. I assume that I got the pins slightly off center though I used a fixture to try to get them all in the proper location. It has been suggested to me that a pin which will break if the switch handles are hit again will prevent damage to the handle and switch. The person used a wood pin for his repairs.

The following picture links also have descriptions of what is shown in the pictures.



Removed ( 81K) Damaged Wires ( 59K)
Bad Bulbs marked ( 80K) Bulbs ( 79K) Bad Bulbs ( 68K) Bulbs replaced ( 75K)
Back of Front Panel ( 79K)
Broken Handles ( 38K) Rusty Switch ( 79K) Drilling Fixture ( 69K)
Fixed Handles ( 47K) Reinstalled ( 73K)
We Have Light ( 59K)

Next functional restoration Up to straight 8 restoration
---

Feel free to contact me, David Gesswein djg@pdp8online.com with any questions, comments on the web site, or if you have related equipment, documentation, software etc. you are willing to part with. I am interested in anything PDP-8 related, computers, peripherals used with them, DEC or third party, or documentation.

PDP-8 Home Page &nbspPDP-8 Site Map &nbspPDP-8 Site Search