W Series PDP-8 Board information and W707 Teletype Transmitter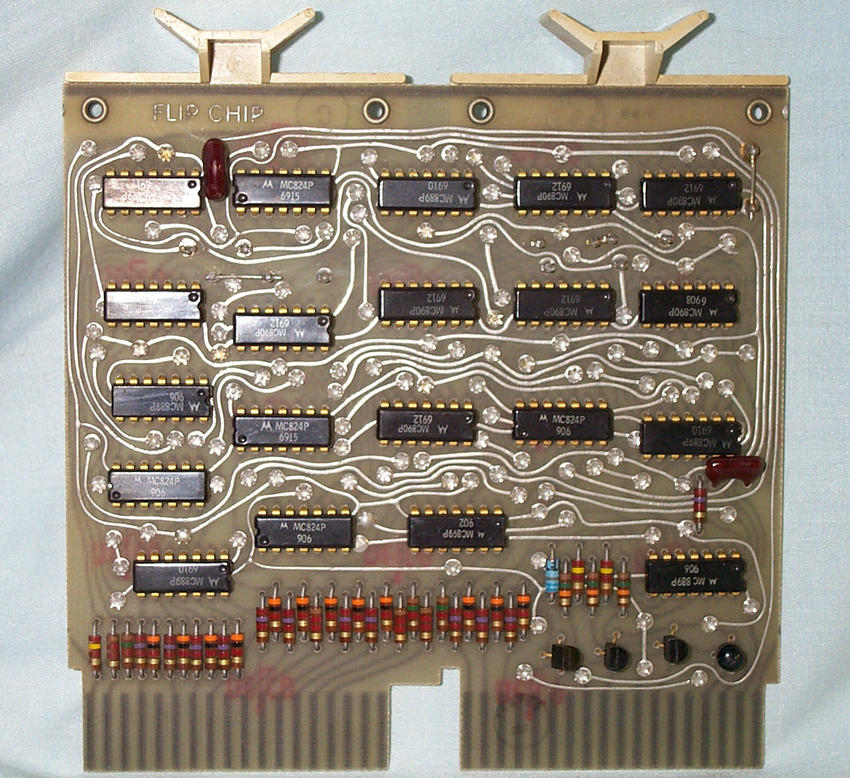 This board converts parallel data from a PDP-8 into the serial data stream for a Teletype. It is similar to the transmit portion of a UART. This card and the W707 are the only PDP-8 cards I know of which uses RTL chips. Transistor Transistor Logic ( TTL ) chips where introduced a couple years after RTL chips and had better performance and soon became the dominant chip type. Soldered jumper wires near the top of the card selects between 5 and 8 bit characters and 1, 1.5, or 2 stop bits. This card is old enough that it uses soldered rivets to connect the top and bottom traces instead of plated through holes. The W707 supports up to 200,000 baud.
This board cost $150 in 1968.
Back to Previous page All of W Series PDP-8 Board information and pictures
---
Feel free to contact me, David Gesswein
djg@pdp8online.com
with any questions, comments on the web site, or if you have related equipment, documentation, software etc. you are willing to part with. I am interested in anything PDP-8 related, computers, peripherals used with them, DEC or third party, or documentation.
PDP-8 Home Page
&nbsp
PDP-8 Site Map
&nbsp
PDP-8 Site Search